Eugenia Opuda
The Artful Science of Empathy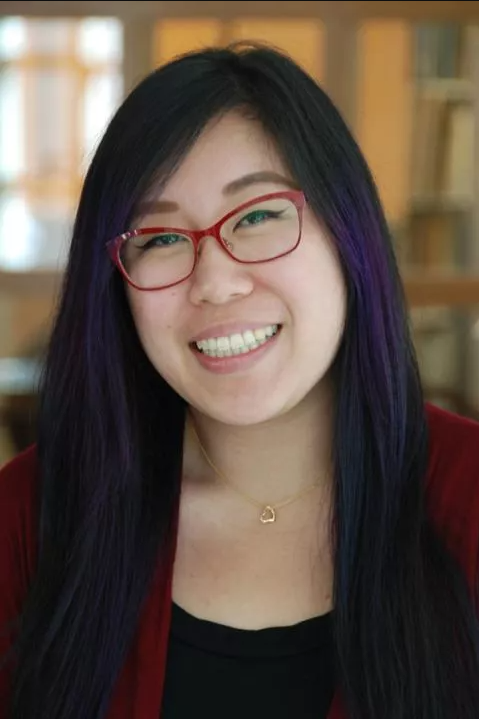 How do you seamlessly blend art with science? In the case of Eugenia Opuda, you become a health science librarian with an art history degree and a music background. The connecting thread is a love of research and teaching with the broad perspective gained by a cross-disciplinary study that forms a uniquely insightful blend of talents.
As an art student at Georgia State University, Eugenia was fascinated by the research focus of art history. Segueing this interest to a career in library science, she moved to Buffalo to earn a master's degree from the State University of New York in 2014. Although her initial goal was museum work, as a graduate assistant in a health sciences library Opuda discovered a new joy and accepted a position as a university librarian within a College of Pharmacy.
Currently, Eugenia is a research and instruction librarian with the UNH College of Health and Human Services where she provides research support and information literacy across eight different departments. The heart of her work revolves around helping students locate and evaluate quality research but she is especially enthusiastic about teaching a Doctorate of Nurse Practitioner (DNP) course entitled Evidence Synthesis. Her students learn to systematically search for and critically evaluate both published and unpublished (gray) medical research, then synthesize the findings to create recommendations for best practices.
"The systematic review process attempts to account for and minimize bias in the synthesis of research findings. For example, I might search for both published and unpublished literature, check whether a study uses a population of ample size and includes an adequate diversity of demographic backgrounds or question whether negative tests that did not favor the expected results were suppressed. I encourage students to poke holes in the research to stimulate a critical look at the published literature and to dig deeper, even if the results are not what they are expecting to see."
This enthusiasm is founded in personal experience. Eugenia's mother suffered from severe health issues and, at a young age, her daughter had to assume health-related decisions for end-of-life care. "When I entered the arena of health science, my own family experience kicked up an internal fire that inspired me to work in support of the evidence-based practice. If I had my current knowledge and evaluation skills back then, I would have made some different choices."
Opuda completed a UNH Online master's degree in Educational Studies, graduating in 2020. Online learning gave her the flexibility to create a good balance between work, home, and study, and she enjoyed the collective support and exchange with UNH colleagues in her cohort. Recognizing that her own students are balancing their schoolwork with other obligations fostered "an empathy-building moment that allowed me to connect with them on a fuller level."
Opuda led a team to obtain a $71,822 grant from the Institute of Museum and Library Studies to fund what she has dubbed The Empathy Project, an open and interactive online training module for museums and libraries that highlights the experiences of historically marginalized visitors and staff. Using video and text-based case studies and interactive tools, the team identifies examples of compassion fatigue and creates opportunities for staff to reflect on social and institutional empathy. The first stage of The Empathy Project revolves around a live training and research study at UNH while the second stage expands the module nationwide and provides planning documents for other institutions to adapt to their own needs.
"As a BIPOC (Black, Indigenous, People of Color) librarian and the daughter of first-generation immigrants, I feel passionate about the potential for this project to illuminate the systematic barriers facing historically marginalized communities who access library and museum spaces. I hope it provides an opportunity to reduce those barriers through social and institutional empathy."
Eugenia is also proud of her involvement with several UNH ECHO programs, a telehealth initiative that connects interdisciplinary experts and community-based practitioners across New Hampshire and Maine to address health and mental health issues. Her role is to supplement knowledge gaps and education topics with the best available evidence in support of evidence-based practice.
"It has been an honor for me to engage and learn from so many professionals in the area. These social workers, nurses, doctors, and researchers are leading the way to address public health issues that affect us all, both nationally and globally."
At an early age, Eugenia became a musician and teacher of the classic Chinese zither and she has performed at Chinese festivals and cultural centers in Georgia and, more recently, at Krempels Center, a New Hampshire brain injury recovery program. She also speaks fluent Mandarin Chinese and understands the traditional Hakka language of her family's heritage. As an artist, Eugenia loves to knit and crochet but she also takes blacksmithing lessons from the New England School of Metalwork to complement her art student experience in sculpture. An avid baker, she enjoys giving gifts of brightly colored fortune cookies in the shape of whales, dogs, and birds with handwritten fortunes inside.
With the sharp intelligence of a researcher and the open mind of an artist, Eugenia radiates her passion for empathy, underpinned by the rigorous academic standards that she shares with students, colleagues, and cross-disciplinary professionals.
                                                                                                   Written by Gwendolyn Goguelet